EON SHARES HIS LOVE OF NATURE WITH GUESTS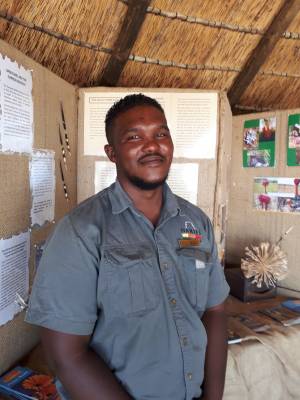 Eon Bok is perfectly placed to share his love of nature and Namaqualand with visitors to Naries Namakwa Retreat as he is born and bred in the Northern Cape.
"I grew up in the area and we had total freedom as kids to roam and play in the veld. I thought I had a pretty good knowledge of the local plants and wildlife," he says. "Only when I started studying through Open Africa to become a Nature Guide did I realise how much there is to learn still!"
Eon came to Naries initially to assist with the building process of the Gemsbok Lapa and now the selfsame Lapa is his "kingdom" where he shares his knowledge with visitors through an interactive presentation about Naries and its history a well as the rich plant life and the geographic aspects of the region.
"In 2016 I had the opportunity to join a tourism intern programme run by Open Africa. The programme was designed to give participants multi-faceted exposure and experience in tourism, so I spent some time learning the ropes at reception, housekeeping, kitchen and general maintenance. Then came my opportunity to train as a guide under the helpful eye of my mentor Jeanene Jessnitz. My training is both theoretical and practical. The first 10 months I felt completely overwhelmed by all the things I had to learn. I am still in training but I am comfortable with my position which ranges from interaction with clients to continuous research, monitoring and maintenance of the environment," Eon explains.
His scariest moment was the first time he had to take 10 foreign guests on the Trail Walk up to the Viewpoint. "I decided the best thing to do was to tell them that this was the first time I had to handle such a big group, and to invite them to give me feedback and comments on the experience. This worked out well as they gave wonderful input and loved being part of my journey," he said.
Although Eon still needs to complete the further official Field Guide Course, he is already a valuable part of the team at Naries. As a father of a 9 year old boy and 5 year old daughter and happily married to Georgina, he seems set for further growth.
TRAILS AND OUTDOOR ACTIVITIES AT NARIES
· - There are 4 Walking Trails at Naries ranging from 5 km's to a combined 15 km's if visitors are fit enough to tackle all the trails in one go!
· - If Eon is available, guests are welcome to pre-book a walk with him, which is obviously a lot more informative and interactive than doing it on your own.
· - However, if not available, Eon recommends the self-guided walk, which is easy to do with the free map handed out at reception.
· - Visitors are welcome to discover Naries on their mountain bikes, although they are asked not to veer off the existing roads so as not to damage the fragile eco-systems and plant life.