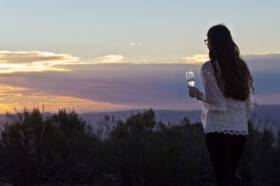 Wide open landscapes, clear skies with millions of stars, unique plants, a variety of birds and animals – and on top of that luxurious accommodation and warm hospitality – await guests at Naries Namakwa Retreat near Springbok in the Northern Cape Province of South Africa, when travel restrictions are lifted.
With this in mind and looking specifically towards locals travelling, Naries now offers a gift voucher at 30% off on all three of their accommodation options. The Mountain Suites, Manor House Guest Rooms and the two self-catering cottages offer different experiences within this nature reserve on the edge of the Spektakelberg between the N1 towards Namibia and the West Coast.
"Pay now and stay later" is the ideal way to assist the staff at Naries and keep the business ticking over during this lock down period. Guests are able to book their accommodation until 31 May 2021 using the voucher, which offers enough flexibility to plan travelling when it suits.
"Namaqualand is known for its isolation, tranquillity and peaceful environment, and we believe these characteristics are what will draw visitors back to our Retreat soon," says Naries GM Julene Hamman. "This is the perfect place to relax and recharge your batteries and we can't wait to host visitors again."
The discounted rate is only available if directly booked at reservations@naries.co.za after which a gift voucher will be sent to you for use until end-May 2021. Visit our website at www.naries.co.za to find out more about our accommodation, facilities and activities in the region.
A similar offer is available at our sister company, d'Olyfboom Family Estate in Paarl, Western Cape. Enquire at reservations@dolyfboom.co.za to find out more.