5 Reasons to visit Namaqualand

Written by Heather Richardson
Courtesy of www.safaribookings.com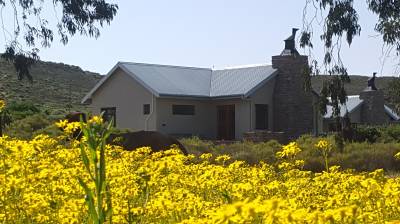 The semi-desert region of Namaqualand sprawls across the Northern Cape of South Africa and into Namibia, about six hours north of Cape Town. Namaqualand is usually associated with the dazzling wildflowers that bloom across the area each spring. However, the region has a lot going for it at any time of year. This includes remote, wild beaches and 4x4 trails as well as a range of hiking and mountain biking routes. The Orange River flows through the region, marking part of the border between South Africa and Namibia. There are several parks and nature reserves, such as the coastal Namaqua National Park. For those wanting to escape the city for a weekend or as a stop-off on an overland trip through Southern Africa, Namaqualand has plenty to offer. Here are five great reasons to visit.
1. Wildflowers
Wildflowers are almost synonymous with Namaqualand, but they don't bloom for long. They usually begin to flower in late July and early August, depending on the rains. By September, many of the flowers have already died. As such, you need to plan ahead, especially if you intend to stay in the area overnight. But it's worth it to see the multicoloured patchwork carpets that blanket the fields during this spring period. Namaqualand has over 4,000 plant species, including around 1,000 endemics. You can admire the flowers via various hiking and cycling routes, along which you'll find picnic sites and places to overnight. Popular destinations include Hantam National Botanical Garden in Nieuwoudtville and Namaqua National Park.
2. City escapes
Throughout the year, Namaqualand is a refuge for city-dwellers in need of some space and silence. To beat the crowds, the best time to visit is outside wildflower season, from October to June. Take advantage of the quiet trails for long, satisfying days of hiking, running or braaimountain biking. Or simply enjoy a relaxing weekend away, chilling out with a beer and a braai, the South African version of a barbecue. There are challenging 4x4 routes to try out, many with stunning views along the way. Spend the nights stargazing, far away from any city lights, and wake up to the sound of birdsong.
3. Wildlife
It's not just flora that you'll find in Namaqualand, but plenty of fauna, too. It's home to what is thought to be the smallest tortoise in the world, the Namaqua speckled padloper. If you're very lucky, you might see the rare aardwolf or an African wildcat. There are klipspringer antelopes, bat-eared foxes, Cape foxes and black-backed jackals. Birders have plenty to keep them busy, too. Species at Naries Namakwa Retreat specifically include the Verreaux's eagle, African harrier-hawk, Cape eagle owl, Karoo lark, fairy flycatcher and dusky sunbird. You can spot many of these birds from your lodge or by taking a walk around one of the reserves. Goegap Nature Reserve, just outside Springbok, is home to 92 species of birds.
4. River excursions
Namaqualand is split in two by the Orange River. Little Namaqualand is to the south of the river and the northern part is known as Great Namaqualand. This river runs across the width of South Africa, from the Drakensberg right through to Namibia. You can go rafting or canoeing down the river, either as a half-day excursion or as a multiday trip. Take a swim to cool off after a hike and keep an eye out for the many birds often seen along the banks.
5. Windswept beaches
Namaqualand borders the Atlantic coast of South Africa, where rugged beaches are battered by the ocean waves. This coastline is known for its old shipwrecks, some of which you can visit on a 4x4 tour. You might also spot whales or dolphins from the pristine beaches. Namaqua National Park has a coastal section. Here, you can admire the ocean views, spot flamingos and walk amongst the flowers and succulents that grow along the shore.