Bird and Animal sightings at Naries
Visitors to Naries Namaqua Retreat are blown away by the rich variety of animal- and bird life in and around the lodges. As guests are welcome to meander anywhere on their own and on guided walks with our guides, its a wonderful opportunity to see and photograph some of the endemic birds and animals of this remote region.
Many viewings take place at our watering holes and we love sharing some of these pics with you. We're sneaking in one of our cute little Klipspringer antelope as well – so enjoy!
Verreaux's Eagle (above), previously known as the Black Eagle, is widespread throughout Southern Africa. They favour mountainous terrain where dassies (rock hyrax) form a large percentage of their diet. Like many of the large birds of prey, they mate for life and can often be spotted foraging in pairs along cliffs and mountain ranges.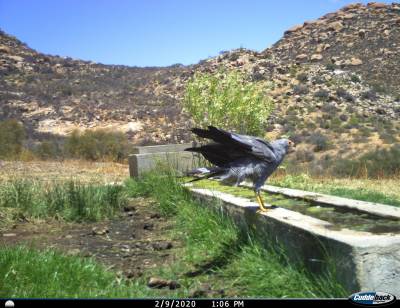 The African Harrier-Hawk (above) is an agile raptor wonderfully adapted to a life of opportunism. Whilst like most raptors, they can appear quite majestic in flight the Gymnogene will also often be seen dangling from one leg while raiding a bird nest with the other in a most animated, clumsy fashion. They are fun to watch!
The Klipspringer (above) is a small sturdy antelope, with unbelievable sure-footedness as it leaps from boulder to boulder in treacherous mountain terrain.
The coat of the Klipspringer ranges from a yellowish-gray to a reddish-brown and they are superbly camouflaged in the mountainous habitat it prefers. Females are slightly larger and heavier than males and they're often spotted in small groups of 2 to 5 individuals on the rocky outcrops of Spektakel Pass.