CHEF JOHANNA LOVES MAKING PEOPLE HAPPY!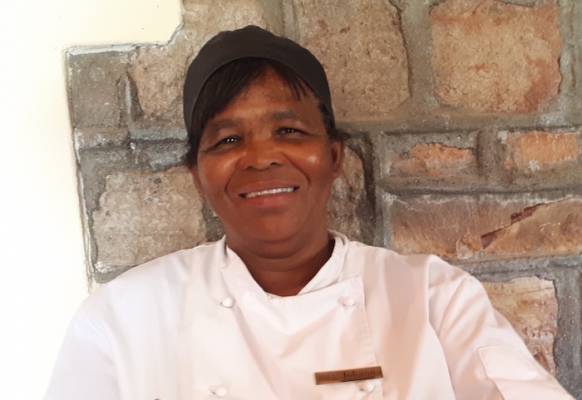 Photo: Johanna Ruiter in a typical pose: Mixing bowl at the ready!
"I am a people pleaser and there is nothing nicer than seeing happy faces after they've eaten some of our food," says Naries Chef Johanna Ruiter.
"My initial claim to fame was my curry mince vetkoek and to this day it's still one of my most popular dishes at home. My mother was an excellent cook and one of my fondest memories is of her baking a cake in a flat-bottomed pot over the coals! I think that's where I got my love for baking from and if I had my life over I would have trained to be a pastry chef."
Johanna's desserts are wonderful and much appreciated by guests at Naries, although she prefers her venison potjie made from Naries' own Springbok or Gemsbok. She is a fan of ingredients like garlic, onions, rosemary and thyme and says she learnt to use these key elements once she came to Naries and started training under GM and professional chef, Julene Hamman.
When pressed Johanna admits her personal favourite dish to eat is pork spare ribs and when treating her four kids and seven grand-kids it's cakes, cookies and desserts all the way. "They are much more conscious of sugar than we were as kids," she says. "So often I have to rein in my own sweet tooth and remember that it's all about treating them, not about spoiling them," Johanna laughs.
Luckily the diners at Naries can indulge in Johanna's sweet creations to their heart's content.